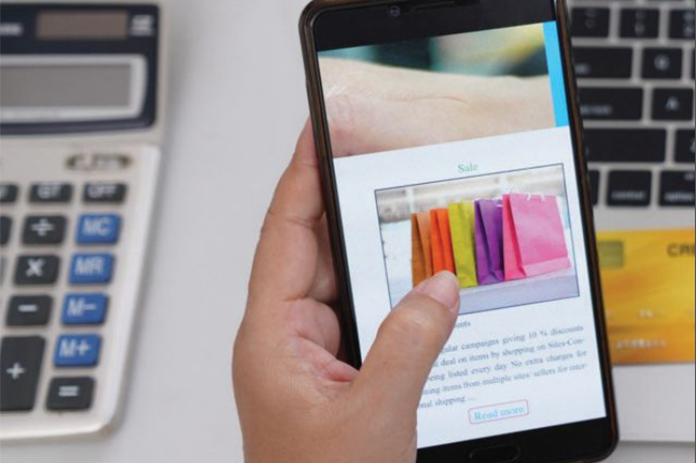 Advances in Web-to-print technology, combined with the COVID-19 pandemic, are boosting the allure of going B2C.
In a world that has changed dramatically due to COVID-19, printers — along with many other verticals — have been impacted severely. It would not be surprising, therefore, if many printers are looking for new opportunities outside of traditional business lines to make up some financial ground.
Wide-format printers, which traditionally rely on commercial jobs from groups and businesses, might be tempted to look more closely at adopting a consumer-oriented B2C business plan driven by e-commerce to complement the battered B2B business models.
To be sure, digital commerce is already making profound inroads among B2B companies. According to Gartner Research, 62% of senior B2B business leaders have initiatives in place to make their businesses more digitally oriented, and the process is accelerating: E-commerce revenue within the U.S. manufacturing sector rose from $1.56 trillion in 2006 to $3.48 trillion 10 years later.
But that's B2B transactions. When selling products online to consumers — whether it's print, fabrics, signs, mugs, face masks, or myriad other products in small or one-off volumes — the process can be much more complicated.
"When employing Web-to-print for B2B jobs, it's basically a turnkey solution, but with B2C, where you're dealing with potentially hundreds of thousands of files, it's not as simple," says Ali Ridha Jaffar, VP e-commerce at London-based printer Syncoms. "And you need the automation, because if you have many customer touchpoints, from entry, to the storefront, all the way to the printed product, end-to-end automation is required."
Syncoms traditionally focused on delivering everything from business cards to training manuals for its B2B customers. However, Jaffar says the company has expanded to B2C, fulfilling orders for such products as photo books, photo prints, mugs, and canvas totes.
The Realities of B2C Selling
Jaffar cautions that traditional wide-format printers need to be aware of certain e-commerce realities. B2C requires enough high traffic volume to justify low-priced individual orders, he notes. That, in turn, requires a heavy investment in search engine optimization (SEO) and paid search (SEM) to draw in customers. Moreover, pricing must be much more aggressive, a factor that is less essential with a bespoke product provided to a B2B customer. B2C consumers, by contrast, tend to consider price above all. And, of course, the customer experience, conditioned as it is by the "Amazon effect," must be seamless.
Nevertheless, successfully entering the consumer-oriented printing world is becoming more possible due to evolving Web-to-print technologies. Syncoms leveraged Web-to-print solutions from EFI to succeed in B2C.
"When stepping into the B2C world, you have to be committed, and invest the time and resources" says Aaron Tavakoli, senior product marketing manager at EFI. "It's a highly competitive marketplace, and big organizations account for the bulk of consumer online business. If you're just selling the same products they are, it comes down to price, as well as consumers' ability to find you. So you must offer something those larger companies aren't, provide services and guarantees they don't, or be cheaper."
Tavakoli suggests that printers look at the types of products they're already providing to their B2B customers, and ask themselves how those products can be commercialized and taken to market for anyone.
Exploiting Current Demands
Alpharetta, Ga.-based Benson Integrated Marketing Solutions is another EFI solutions customer, traditionally focused on developing marketing materials for the real estate and construction industry. However, the company began to receive multiple requests to supply COVID-related products, and realized these would be desirable to consumers as well.
"We had never built a B2C site before," says Brian Benson, founder and CEO of the company. "The COVID site is a true B2C walk-up site." Benson says the new online destination broadens his potential base of customers, but the company's core business will remain committed to the B2B multifamily real estate market.
Another commercially oriented printer just entering the B2C realm is Firehouse in Indianapolis, which has focused on large indoor and outdoor signs, banners, and fabrics, but like other B2B-oriented printers it's been edging into the consumer market. As CEO Terry Corman notes, the Firehouse website was intended to be B2B, "But now you can't really tell."
"What's happening in the industry is that many wide-format printers are no longer discriminating about whether a customer is B2B or B2C," Corman continues. "Everything online is growing like crazy."
Like others, Corman acknowledges the challenges in adopting a B2C business plan, including the need to not only offer a clean automated ordering process and develop a robust marketing plan, but also to automating a company's back-end for full-range ERP processes. He says he's been able to offer this fuller range of capabilities via a partnership with imaging and printing company Durst, using its newly developed Lift ERP e-commerce solution.
"It really comes down to if you can produce enough of what you're offering on the internet to offset the cost of having the front end," Corman says.
Durst, a major printer itself, is new to the e-commerce arena, having developed its software division only a few years ago. "We saw that software was a big part of the game, and decided to launch a software division to develop and supply products that would help our customers," says Steve Lynn, director and general manager – new markets at Durst.
Lynn says Lift ERP provides such solutions as product review, estimating, print production, and shipping, while allowing customers access to the front-end to order for themselves. Durst offers another platform, Smart Shop, which is a dedicated e-commerce solution. "With evolving Web-to-print technology, you now have the ability to offer a website that allows any person to go online, design whatever they want on any specified material, be a banner or yard sign, order it, and have it printed and shipped," Lynn says.
Don't Just Dive In
Despite the desire to diversify and seek new opportunities, some printers may decide to forgo the consumer market entirely. Challenges, expense, and individual circumstances may be too much to overcome.
"We were thinking of pivoting to the consumer market," says Brian Adam, president of Olympus Group in Milwaukee, which specializes in large banners and graphics. "We already OCTOBER 2020 | wideformatimpressions.com | Wide-format Impressions 37 have done a lot of face shields for large hospitals, and then started doing face masks for businesses. That's where we talked about going to consumers direct."
The Decision Against It
"When consumers buy a product, they expect to have the Amazon buying experience," he says. "They don't want to talk to a person. They just want to click a button and get the product tomorrow. The bottleneck for us was selling. If we were to enter the consumer space today, without some type of differentiation, we'd be competing solely on price."
Adam recommends that printers looking to expand into the consumer space examine the competitive landscape, what others are already offering, and what they can do differently. Competing on price would be hard because of the typically tight margins in the e-commerce space, he says, but unique twists on products may be more successful.
"But the most important thing about B2C is you have to be really good at e-marketing, how to sell on the Web," he says. "Lots of companies with good products and pricing have failed because they didn't understand e-commerce."
---
Link to original article (which can be found on page 34): http://digitaleditions.napco.com/publication/?m=55516&i=676826&p=34