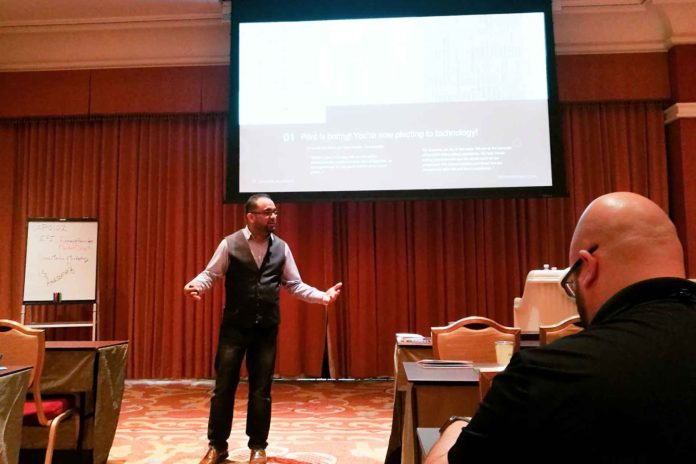 Impressions and Notes from EFI Connect, 23rd – 26th January 2018
As some of my readers already know, for one reason or another, this year I've recently attended EFI Connect, which was – from my point of view – a huge and tremendous opportunity packed full of chances to learn new things, share industry insights and grow relationships.
Thanks for the Memories
First things first – I must mention and thank Charlotte Tuckmantel and Aaron Tavakoli. They were amazing hosts – friendly, welcoming and entertaining.
The venue for EFI Connect was the stunning elegance of the Wynn Hotel in Las Vegas. Aside from the long walk down seemingly endless corridors to get to the actual conference, what really takes you back is seeing all the attendants gathered for a single corporate event. Everyone I met was truly amazing and they should definitely not take it as a personal criticism that I've lost count of the number of hands that I shook throughout the whole conference.
Vive les Différences
Generally, having attended plenty of printing events, I tend not to focus too much on the badges being worn, but more on the faces or other distinguishing features of a potential partner, client or provider. This time, due to the quantity of the people approaching me, badge-spotting has been a critical detail. At EFI Connect, everything is colour-coded, so spotting a badge (and they're mandatory – I forgot it once and it was impossible to access the venue until I'd grabbed a new one!) was essential to distinguish between the different attendees.
Another difference that I noticed immediately between the EFI Connect conference and the other print events that I've attended, was the structure. The talks and training sessions are definitely the main point of this event. Perhaps some of you have attended Drupa or similar, have taken part in one or two seminars, left most of your time to ogle the pretty, new machines or take a flying tour through some new software being exhibited – at EFI Connect, it was exactly the opposite.
There were only a few things to see in the main hall, nothing that would take you longer than a couple of hours to absorb in detail, even including a quick chat with all the representatives gathered there – all of whom have been positioned with exacting precision to never detract from the more important sessions.
And there were a lot.
A Time for all Sessions
Seriously, there was a session for just about every imaginable print-related topic you could conceive, from business, to technical and – of course – every software product offered by EFI was thoroughly covered. All the newest and latest features are exhibited here – it felt like being invited to an elite movie premiere, but the best part is the competitive leg-up from being privileged enough to preview these new features before they're even released. If you weren't there, you'll never know!
In all, there were over 200 different sessions, but they were clearly delineated by topic, simplifying navigation across the crazy, alien terrain. I mean, hotel conference facilities.
There was a wonderful torrent of information, both from EFI's own experts as well as from partner companies like ours, but there were also independent parties there, sharing their knowledge about the wonderful world of printing – definitely something for everyone.
Coupled with the fantastic sense of positivity and the very real opportunities to create new products and services that will appeal to the end-user, it was also a pleasure simply being there, meeting people from all over the world. Yes, the USA and Canada were heartily represented, but there were a lot of Europeans there, even someone from Serbia, as well as a representative from our antipodean cousins in Australia. It was fascinating to talk to everyone, gain their opinion, understand their business models and build long-lasting ties. Every break between sessions, every lunch or dinner became an exciting opportunity to meet someone and grow a new business relationship.
Saying Goodbye
The EFI Connect conference is definitely a mandatory event for those interested in cutting edge technology when it comes to MIS, Web2Print and Marketing Automation, not least of all because of the chance to meet hundreds of people with the same concerns and requirements as you! It's an unmissable event for every printing professional, giving everyone the opportunity to plug into the general current, feel the pulse, dip into trends and attitudes, see which way the wind is blowing – all that jazz.
As Web2Print technology evolves by the day, I'm already planning out what I'm going to be saying next year… See you at EFI Connect 2019!
The Ultimate Pitch! – Effective Selling Techniques for Web2Print Services
Customer Implementation with Velocity: Overcoming Common Challenges Post Installation 
Organizational Transformational with Effective Training and Recruitment